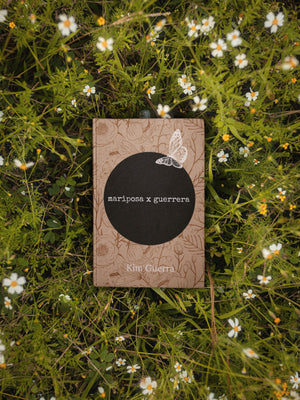 Mariposa x Guerrera
Sale price Price $20.00 Regular price Unit price / per
 "Mariposa x Guerrera" is a revised version of "Mariposa" a collection of Spanglish poetry meant to bring healing and empowerment to mujeres mariposas who are giving themselves wings. This book is like vaporu for the soul and corazon of mujeres who are loving themselves into a garden.

We've added about a hundred new poems originally intended to be a part of this collection!
You are a wildflower.
You grow in difficult places.
You absorb light and shine.
You are independent.
Florecita linda, florectia loca solo necesitas
tu alma y la madre tierra
para florecer.