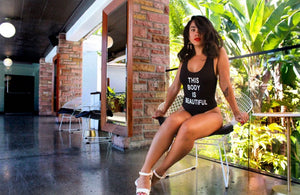 This Body is Beautiful
Sale price Price $26.30 Regular price Unit price / per
THIS BODY IS BEAUTIFUL.
It took me so long to be able to say this and believe it. My body has survived so much. It has blossomed despite of abuse, trauma, and years of shame. Part of my self love journey has been accepting and loving my body: my curves, scars, lonjitas, verrugas, pelos, psoriasis, and all the things people can't see: the trembling, nightmares, hyper vigilance, and flashbacks. 
I used to punish myself for eating and let the scale define my worth. Now, I reclaim and make my own beauty standards and have decided to celebrate this glorious, resilient body. It is mine and it is beautiful. 
Whats your relationship with your body? 
I want you to celebrate and declare your body beautiful.